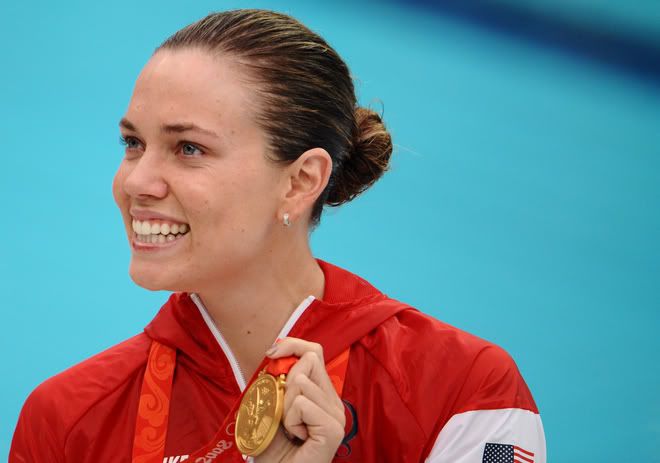 Male swimmer Natalie Coughlin, posing with gold medal for women's swimming
Starting in the late '70s and continuing into the '90s, the East German and Chinese women's swim teams engaged in systematic doping with anabolic steroids and testosterone. The repulsive tactic resulted in multiple gold medals in Olympic competition, and American swimmers had no chance to compete. The U.S. government refused to stand idly by while our ladies were dealt loss after loss, but they knew the American public wouldn't stand for similar doping tactics and the highly visible results- masculine features, unseemly body hair, deeper voices, and future health issues.
Instead, top genetic engineers at the U.S. Department of Health gathered in 1983 and conceived "The Tiresias Scenario." Named after the famous blind prophet of Greek mythology, who was transformed into a beautiful woman for seven years after displeasing Hera by hitting a pair of copulating snakes, the Tiresias Scenario would undertake to transform young athletes into comely young women for the purpose of winning future gold medals in swimming. As opposed to the barbaric East Germans and Chinese, who didn't hesitate to mutate their athletes into freaks of nature, the men behind the Tiresias Scenario sought to combine increased musculature and masculine athletic ability with cosmetic surgery and manners training designed to ensure traditional beauty and feminine personality traits. Ronald Reagan loved the idea, and gave it his exclusive presidential approval, a measure that bypassed congressional oversight and was later determined to be highly illegal.
Their first subject was young Jonathan Thompson, a 10-year-old aspiring baseball star. After securing the approval of his parents, Thompson was abducted by government agents, and the transformation began. The result was "Jenny" Thompson, who went on to win eight gold medals (and 12 overall) beginning at the 1992 Games in Sarajevo. Danny Torres, a 16-year-old Hispanic boy from New Mexico, was the second subject, and he began his career even faster than Thompson, winning a relay gold as "Dara" Torres in the 1984 Olympics. But his true glory also began in Barcelona, and continued up until the 2008 Games in Beijing, where his masculine power and fast-twitch muscles allowed him to compete at age 41.
George H.W. Bush was one of the original supporters of the Tiresias Scenario, and he increased government funding in 1990 as the scientists spotted their next recruit, a 10-year-old surfing prodigy with tremendous athletic upside named Brooks Bennett. Brooks became a distance swimmer named "Brooke" who went on to win gold in Sydney and Atlanta.
The immediate success of the Tiresias Scenario prompted Bill Clinton to enthusiastically approve the program's continuation in 1992, whereupon agents seized 19-year-old Division III college football star Aaron Van Dyken in a covert overnight operation. He quickly became "Amy," and won a combined six gold medals at the Atlanta and Sydney Games in '96 and '00. Unfortunately, Van Dyken's fiery temper caused him to spit in the lane of Inge de Bruijn after losing in the 50-meter freestyle event in Sydney and accuse her of (ironically) doping.
That almost halted the program in its tracks, but George W. Bush was curious to see how young Nathan Coughlin, kidnapped at age 11 back in '93 when he was spotted winning a youth track event, would fare after some early promising training swims. The answer, as it turned out, was quite well. Transformed into "Natalie," Coughlin won 11 total medals, including three golds, between 2004 and 2008.
The Tiresias Scenario continues under President Obama, who has reportedly said that he loves it not only for the Olympic success, but also because there's no downside, since the athlete's former memories are erased and- beginning in 1985 after the Thompsons began to publicly express their regret at giving up their son- all parents and other immediate relatives are pre-emptively "disappeared."
As America bravely soldiers on into the new century, the Tiresias Scenario will undoubtedly continue to produce great national heroes in the pool. Now if only we could do something about that darn chlorine!
HAHAHAHAHAHAHAHAHAHAHAHAHA!!!